Worker's Memorial Day 2023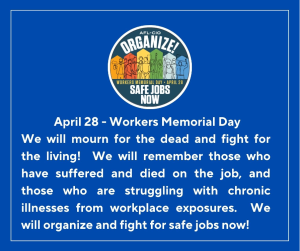 More than 50 years ago on April 28, Workers Memorial Day, the Occupational Safety and Health Act went into effect, promising every worker the right to a safe job—a fundamental right. The law was won because of the tireless efforts of the labor movement, which organized for safer working conditions and demanded action from the government to protect working people. Since then, unions and our allies have fought hard to make that promise a reality—winning protections that have made jobs safer and saved lives. But our work is not done. Each year, thousands of workers are killed and millions more suffer injury and illness because of dangerous working conditions that are preventable.
2023 Illinois Workers' Memorial Day Events
Join working families as they observe Workers Memorial Day on April 28
Pledge to continue the fight for SAFE JOBS NOW
Alton – The Greater Madison County Federation of Labor Workers Memorial program will be held Friday, April 28 at 7:00 PM at Gordon Moore Park, at the Workers Memorial Site, Highway 140, in Alton Illinois.  Please ask members and families to attend this annual program.  In the case of inclement weather, the program will be held indoors at the Muensterman Building.  Please notify Mike Fultz at 618-409-4314 or [email protected], or Dean Webb at 618-259-8558 if you know of a worker with a fatal or permanently disabling injury so that we may honor them during the program.
Bloomington – The Bloomington & Normal Trades & Labor Assembly will gather at 6 a.m. on Friday, April 28, Workers Memorial Day, at Bloomington's White Oak Park, 1514 N Cottage Avenue.  Over 300 names of area fallen workers will be read in a brief, pre-work ceremony
Champaign – Friday, April 28 – A memorial event is set for 5:00pm at the Champaign County Worker Memorial site in Dodds Park, 1501 N. Mattis Avenue in Champaign, IL.  Champaign County AFL-CIO President Matt Kelly and East Central Illinois Building & Construction Trades President Kevin Sage will be joined by elected officials and community leaders for remarks and a memorial wreath presentation, as they add the name of ride-share driver and aspiring veterinarian Kristian Philpotts to the memorial.
Chicago – The Chicago Federation of Labor is joining ARISE Chicago for a virtual, interfaith service on Friday, April 28 from 8:30-9:15 a.m. To register, visit https://forms.gle/Gwdj6Zg6w7geiaXHA. Additionally, Chicago Jobs with Justice will memorialize fallen workers on Wednesday, April 26 from 3:30-6:30 p.m. in front of St. Agnes of Bohemia Catholic Church, 2651 S. Central Park Ave. in Chicago. Bring photos to commemorate your loved one.
Decatur – Friday, April 28, Decatur Trades and Labor Assembly Workers' Memorial Day Service, 5:30 PM on the northwest corner of the Macon County Courthouse lawn, located at 253 West Wood Street in downtown Decatur.  There will be a guest speaker and reading of the names of those who have died on the job.  Contact Lloyd Holman, 217-620-4923 or Lamarcus Williams at 217-413-3577.
Galesburg – Friday, April 28, at 5:30pm at the Galesburg Trades & Labor office, 1640 N. Henderson Street in Galesburg.
Peoria –Friday, April 28, Labor Council of West Central Illinois Workers' Memorial Service.  At 6:00 PM gather at the Workers' Memorial Monument at City Hall, 419 Fulton Street, Peoria. A brief memorial service to honor our fallen brothers & sisters who have died or have been seriously injured as a result of workplace accidents.  Contact Lisa Uphoff at 309-672-1967 or Amy Flynn at 309-674-5181.
Quad Cities – USW Local 105, IBEW 1379 and ARCONIC Davenport Works leadership invite Quad City area working families to join them in a national observance of Workers Memorial Day.  On Friday, April 28, 2023, working families in the Quad City area will gather at the USW Local 105 hall to commemorate Workers Memorial Day.  This is a time for working families and union members to remember sisters and brothers who have died or been injured on the job.  Call 563-355-1181 for more information.
Rockford – Friday, April 28, the Rockford United Labor (RUL) Workers' Memorial Day Ceremony will be held at 5:30 PM at the AFL-CIO monument behind the Zeke Giorgi State building, located at 200 South Wyman Street in Rockford.  RUL will honor those union members who have lost their lives on the job.  Following the ceremony, a special presentation will take place at the Nordlof theater where RUL will host NIU Professor Dr. Rosemary Fuerer as she presents her 28-minute documentary about honored labor leader Mother Jones.  The presentation will begin at 6:30 PM.  For more information, contact Sara Dorner at 815-608-0834.
Springfield – Friday, April 28, the Springfield & Central Illinois Trades & Labor Council and the Illinois AFL-CIO will host a press conference and ceremony at 10:00 AM at the Illinois AFL-CIO Front Plaza located at 534 S. Second Street in Springfield, IL.  The event will be dedicated to all who have lost their lives on the job.  Families of fallen workers will be invited and flowers will be placed in their memory.
https://www.affi1935.org/wp-content/uploads/2023/04/Picture13.png
464
464
Matthew Hill
https://affi1935.org/wp-content/uploads/2019/03/affi_logo.png
Matthew Hill
2023-04-27 17:59:55
2023-04-27 18:04:25
Worker's Memorial Day 2023