Welcome to the AFFI Radio Network
The AFFI Communications Department continues to develop new ways to communicate with members and amplify our union's voice across multiple platforms to ensure we are communicating the way our members want to receive their information.
This new network is designed to provide information to our members while they are on the go. Whether you are in the car on the way to the firehouse or on the exercise bike at the gym, the AFFI Radio network has all of the latest information and educational material you need to keep advancing your career in the fire service and our great union.
We will be adding channels as we continue to build our network.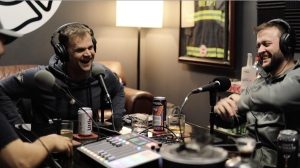 Episode 7: April 8th, 2021: 58min. Cicero Firefighters 717 Members and Federal Savings Bank Representatives Josh Hill and Joey Mathews were in the studio to promote the Frontline Team. They talked at length about Cicero's Silver Spanner Campaign and both of their careers in the fire service; including Joey's experience with the 100 Club of Illinois after his father's line of duty death.