GoFundMe for Brad Belanger of Sycamore Local 3406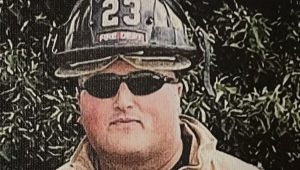 Brother Brad Belanger of Sycamore Firefighters Local 3406 was recently diagnosed with cancer. See the following letter from his Union Brothers. Please consider donating to the GoFundMe. T-shirts will be made available in the future also.
When Brad reached out to his brothers about his recent esophageal cancer diagnosis, we were all
shocked. He began having medical issues in late October and received his diagnosis earlier this month. Brad has been a full-time Firefighter/Paramedic with Sycamore for 22 years, being an active member with the department, participating in technical rescue, the SFD health and safety committee, the department's fleet and building maintenance programs, SCBA maintenance, and many other facets within the fire service. He is also an active and participating member of Local 3046 and has always supported the AFFI and IAFF. He grew up in the fire service with his father Bob (Glen Ellyn FD), and lives in the community with his wife and two children. Since Brad's diagnosis, he and his family have been quite overwhelmed with tests, scans and procedures
that come with the staging process. Final staging reports will be complete later this week, and
simultaneously treatment continues to move forward. This, of course, all comes with a cost. With the permission of Brad's family, we have set up this GoFundMe account to assist with medical expenses and other expenses that we anticipate during his treatment process. Any donation would be greatly appreciated, and used directly for expenses relating to Brad's treatment.
As Brad's treatment plan becomes more solid, we will update and share what we know as time progress.
Sincerely,
Sycamore Fire Fighters Local 3046 on behalf of the Belanger family
https://www.affi1935.org/wp-content/uploads/2022/12/C087CC09-3920-4897-87F6-8040ED1CF4E2.jpeg
634
752
Matthew Hill
https://affi1935.org/wp-content/uploads/2019/03/affi_logo.png
Matthew Hill
2022-12-29 20:16:38
2022-12-29 20:16:38
GoFundMe for Brad Belanger of Sycamore Local 3406