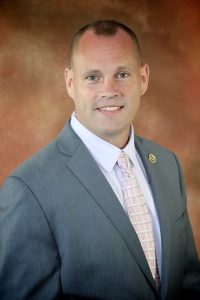 Matt Olson (Bolingbrook L3005) retires after 12 years as AFFI District 4 Vice-President
From AFFI President Chuck Sullivan:
As many of you are aware, District 4 Vice President Matt Olson announced at the Fall 2022 District meeting that he would be bringing his time as the DVP to a close in the near future. Matt and I have had several good conversations in the last few weeks. It is his intention to make July 7, 2023 his last official day as the AFFI District 4 Vice President. Matt will have served the AFFI and its membership for 12+ years and I think we can all agree that Matt made District 4 and the AFFI better than he found it. He was instrumental in bringing the mental health issues of our members out of the darkness and making it ok to not be ok. He was vital to the success of our secondary employment education and legislation. He provided countless locals with superb guidance and organized multiple affiliates who now reap the benefits of belonging to the IAFF and AFFI. His ability to call it like he sees it made him invaluable. Although he is leaving the role, I know that many of us will still count on him for certain advice or suggestions. I also know you will congratulate him when you see or talk to him next.
Thank you, Matt!
AFFI President Chuck Sullivan
https://www.affi1935.org/wp-content/uploads/2023/06/AFFI-Logo-Official-RedBlackWhite.jpg
792
793
Matthew Hill
https://affi1935.org/wp-content/uploads/2019/03/affi_logo.png
Matthew Hill
2023-07-11 19:45:36
2023-07-11 19:45:36
District 4 VP Matt Olson Retirement